Posted by
bowtiful on 2006.08.15 at 00:51
Current Mood:
sleepy
Sorry about the late entry, I was away and busy.
So, these are last week's guesses..
The guesses for #1 were: 17, 15, 20, 18
The guesses for #2 were: 27, 21,23, 21
#1 is 29 and #2 is 21
These are this week's pictures for guessing:
1.)
2.)
Remember, all comments are screened for only my eyes to see.
Also, the e-mail address to send in pictures is: guessmyageagain@gmail.com, rules are stated in the Userinfo.

And don't forget to pimp out the community!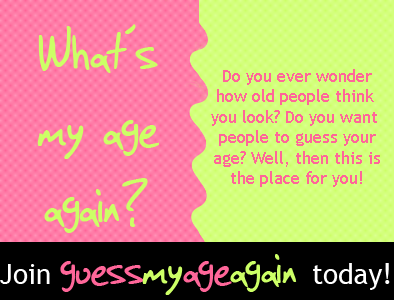 As of now, there also aren't any pictures for next week's post.